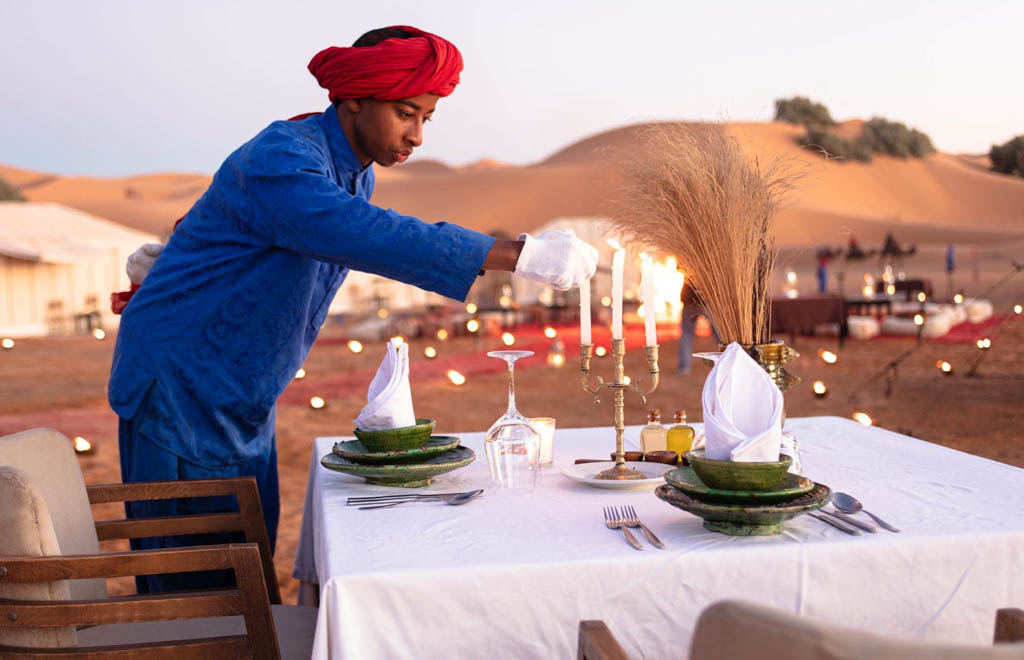 €599.00
Location: Marrakesh
Duration: 3 Days
Luxury Morocco tour to desert 3Days / 1 Night in luxury desert camp
Luxury Morocco tour to Erg Chebbi and Merzouga luxury desert camp , will allow going spend few magical night in luxury desert camp in Erg Chebbi dunes.  There's no problem if you want to make it direct transfers from Marrakech to luxury desert camp and back again.
Morocco Luxury Desert Tour From Marrakech , It's like being in a 4-5 stars hotel in the middle of nowhere. You will have your private tent with private toilets and hot water shower inside .
You will have in this luxury desert trip some desert activities like camel ride tour, sand boarding and Berber music under stars around the fire at night.
And about the meals are locally cooked by Berber team , as a local nomads. And in this Luxury desert tour will have delicious Moroccan typical meals during all the period of your stay as well.
You can take this private  luxury tour From Marrakech to Erg Chebbi luxury desert camp or customize it to fit your travel parameters.
Luxury Desert tour to desert 3Day — Tour Package From Marrakech.
Luxury  tour to desert 3Day— Tour Package From Marrakech.
Included?
Private Transportation aboard a comfortable and air conditioned vehicle
Pick up from your Hotel/Riad in Marrakech (or from the airport)
Drop off at your Hotel/Riad in Marrakech (or at the airport)
English speaking Berber driver
Fuel for entire Chebbi luxury desert package
All nights luxury accommodations
Camel trekking in Erg Chebbi dunes
Sandboarding in Erg Chebbi dunes
Berber music at night around the fire under stars in Erg Chebbi luxury desert camp
Free stops when you want
Soft drinks during all your stay in the Chebbi luxury desert camp
Marrakech desert Trip to Erg Chebbi Luxury Desert Camp — Luxury Tour Package From Marrakech.
Not Included ?
Luxury Desert Tour to Erg Chebbi Luxury Desert Camp — Tour Package From Marrakech.
*The Price Per person
Luxury Morocco tour to desert 3Days / 1 Night in luxury desert camp
1

Marrakech - Tizi n'Tichka Pass - Telouet - Ait Benhaddou Kasbah - Dades Gorge. Start your Morocco luxury desert trip from your riad in Marrakech. Drive through the amazing Tizi n'Tichka pass. Pay a visit to the best Kasbah in the area (Glaoui Kasbah and Ait Benhaddou Kasbah). Stretch your legs in the big palmeraie of Skoura. Drive through the longest street of Morocco. Take amazing photos in Dades Gorge. Spend your night in the amazing hotel in Dades Gorge. Enjoy your dinner there.

2

Day 2: Dades Gorge - Todra Gorge - Rissani - Merzouga - Erg Chebbi dunes. Start your day in the morning and drive toward the desert. Take a break in Todra Gorge. Make some stops in the plenty of amazing villages on your way. Go off road through the big dunes of Erg Chebbi. Ride a camel and enjoy the sunset from the top of the dunes. Have dinner with your loved ones in our tent-restaurant or in a table set specially for you somewhere near the camp. Dance and sing with our Berber team at night around the fire. Walk barefoot in the tranquility of the night in the desert. Travel to a unique world under a starry sky. Spend a magical night in your luxury tent.

3

Day 3: Erg Chebbi dunes - Ouarzazate - Marrakech Wake up early in the morning. Take one of the best breakfasts during your time in Morocco. Drive back to Marrakech via Agdz. Stop when you want to have breaks or to take photos. End your luxury journey in Marrakech at your riad.
Contact us
Zine Elabidine
+212667897512
privatedeserttours@gmail.com
Concat Us
Centre Mhamid Elghizlane 47402
+212667897512
Related Tour Packages
Found this company on the website and from the start Abidine was really fantastic. He was very quick in replying and accommodating to our requests. We did a 10 day... read more trip with them. We were met at Marrakech airport by our driver Ismail. I think luck was on our side when we got this guy. He spent the next nine days with us. He was a fantastic driver, yet cautious and caring about our needs. Every night he would escort us to our Riad and did not leave till we were settled in. True regard for us. The highlight, of course was the desert trip. Ismail was born and raised in the desert, so was no stranger to the surroundings, which made us very comfortable. He turned out to be a good musician, playing the drums at the night get together around the fire. The trip included going to Essaouira, Casablanca, Chefchaouen, Meknes, Fes, Dades Valley, Aitbenhaddo, among other very interesting places, all taken care of by PDTours. We thoroughly enjoyed the beautiful scenery, the local people, the tantalizing food,the camel ride and the magic of the desert all in part to Ismail. I highly recommend this company and I cannot say enough about our driver, as the driver can dictate how your vacation will be and ours was extremely good.

oddyoboy


08/12/2019

Fantastic tour, great people! - My wife and I decided to explore Morocco for our Honeymoon - we had limited time (less than a week) and wanted to see many spots. We booked Private Desert... read more Tours and we could not be happier with how it turned out. Our driver, Ismael, was fantastic, professional and accommodating. In 5 days, we visited everything that was on our list: Dade's valley, Erg Chebbi desert, Berber Villages, Fez, Chefchaouen, Casablanca (which wasn't on the list but Isamel managed to make a short detour to accommodate us). The tour started on Monday morning from Marrakesh and ended Friday afternoon back in Marrakesh. We travel quite a bit, and this was one of the most wholesome and complete experience we've encountered - highly recommended.

traveldooda


18/02/2023

This was a unique experience which me and my family will cherish for the rest of our lives. Thank you Abidine for making it possible. Your prompt response to all... read more my queries helped me plan my trip better. A million thanks to Ismail (our guide) who made sure we had a wonderful time through the trip. We feel like we made a great friend in him. From introducing us to local music, to tirelessly driving the 4 days, to taking us to these amazing riads run by the most wonderful people, to showing us the main sites to see along the way - he was simply amazing. This tour helped us experience Morocco in a way that no other tour could. We met amazing families who hosted us. The desert camp was spectacular. I was worried that being a vegetarian and not being able to speak arabic or french would be major hurdles - definitely not so. This tour made it so easy to manage. This is something I would recommend to anyone planning on spending time in Morocco.

485srivatsans


08/07/2019

Incredible Memories Made! - My partner and I stayed in Morocco for 12 days in January 2023 and discovered Private Desert Tours only a week before we were due to arrive. The 5 day... read more tour slotted in perfectly with our gap in the middle of our holiday. It was the last thing we booked, and anytime we visit Morocco again, a tour with Private Desert Tours will be the first thing we book. It was honestly brilliant!

Our guide/driver Ismail met us at our Riad in Marrakech and could not have been more helpful. He was welcoming, chatting to us about places we were passing, teaching us phrases and we wouldn't have seen even a fraction of Morocco if it wasn't for Ismail. He really made this trip such a wonderful and relaxed experience.

The highlight for me was camel riding and visiting the desert as it was truly magicial and it's somewhere I will go back again and again.

If you're thinking of doing a tour I cannot recommend Private Desert Tours enough, communication was exceptional, if we had any questions we could ask via whats app and get a quick response. It felt like they really cared about giving us the best experience. (And we really did).

We cannot thank Private Desert Tours and Ismail enough for giving us the best experience and best start to 2023. Thank you for the incredible memories!

michellehH499TN


21/02/2023

Our trip to desert Erg Chebbi dunes was amazing. The gorges and the desert were spectacular. The food everywhere was delicious but most of all our guide Abdoul was a... read more delight. Our trip to Morocco will always have a special place in our hearts because of Abdoul. He was incredibly polite and courteous. He was patient and always was happy to stop where ever we wanted. His great love and respect for his country was wonderful to see and so rare in our modern times. He has a very positive effect on my children. We all felt very sad when our trip came to an end. On the plane as we were about to take off both of my children looked out of their windows and said " Thank you Private Desert Tours And Goodbye Morocco,

Manuelayp


30/05/2019

I must say we really enjoyed the 3-day tour especially the hours in the Sahara, Dades, Todra and Ait Ben haddou as well as the 2 hotels & restaurants that... read more you recommended. These days serve a big break for us after lots of hassle in Marrakech as we were couple so outstanding there. Abdou, our driver, was very nice, friendly & helpful and he is the type person that does not keep you on talking which perfectly fits our style. Last not not least, thank you Abdoul of taking care of us during the 3 day and we'll not hesitate to recommend Private desert tours

761sabrines


31/05/2019

My friends and I had a blast touring the Sahara Desert! The trip to and from the desert was full of lots of fun stops, but our experience in the... read more Sahara was truly a once-in-a-lifetime adventure. Abdoul was a wonderful guide and taught us so much about Morocco. Abidene graciously answered many questions from us prior to the trip and was easily able to arrange for vegetarian meals. We truly had an incredible experience - it's been the highlight of our trip; and I highly recommend Private Desert Tours. I plan on booking another, longer tour with them the next time I visit Morocco!!

khylieesi


09/03/2023

I already went on a desert tour with Abidine last february and I was absolutely amazed and stunned by the atmosphere in the desert and the insight I got in... read more both the nature and the culture and traditions of nomad life. It was an experience so different to everything I knew that I told my friends they should go on a tour as well. The five of us returned some month later to spend a whole week in the Sahara and we all loved it. Abidine is the greatest organizer I know, he thought about everything and cared about our wellbeing. He and the guides served us traditional food and at night we were telling stories at the bonfire. We could relax and enjoy the landscape and walking. I wish for everybody to once experience this. Thank you so much Abidine!

worldchild_mira


13/05/2019

We both had a fantastic time!. Abidine was wonderful . He was sweet, dependable guy who went out of his way to help us on many occassions. Thank you... read more for making the planning for us! You were easy to work with and very responsive. Thank you so much do the wonderful trip !

Mchicha F


31/05/2019
Testimonials
Excellent Tour in Morocco white amazing scenery fun guide and driver we could not be more happy of choosing this agency his Driver Guide informed about all the places we visited Next time in Morocco we would do our excursion again with this Agency.
-- Andria
From Marrakesh to the desert, 3 days and 2 nights, one of them in the desert with all the expected attractions, a spetacular sun set and a super nice "crew" for dinner and music! The previous nighto we spent in an oasis on a cute and super nice hotel owned by Belgium/French couple in Skoura. Abdul was the nicest driver/guide we ever had, good mood, good with out teenager son and super informed about local culture history and attractions.
-- Alex
I was traveling with my husband and teenage son and Ali made the trip so exciting and informative. My son especially enjoyed his time in the desert sand boarding and rug boarding. We enjoyed ourselves so much at sunset we also added on the sunrise camel trip last minute without any issues to accommodate our request. If you are looking for honest, safe, know ledgable guides…this is your company to go to!
-- Eliza Tess