Sandboarding in Desert Morocco
Sandboarding in Desert Morocco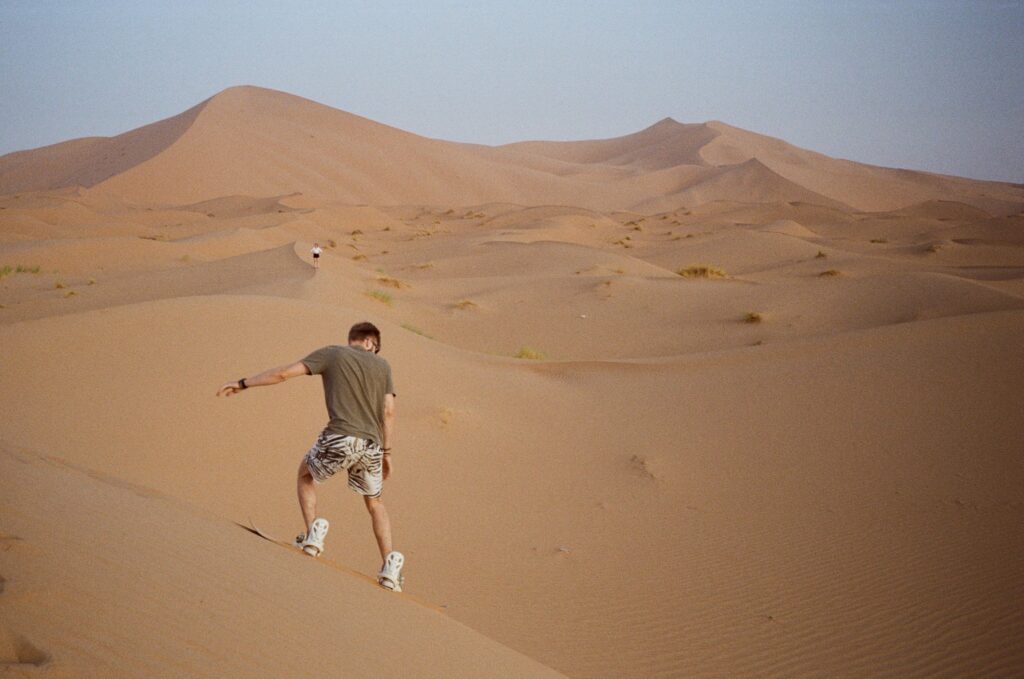 Sandboarding in Desert Morocco with PRIVATE DESERT TOURS
Looking for an extraordinary adventure to spice up your next vacation? PRIVATE DESERT TOURS invites you to experience the thrill of sandboarding in the enchanting Sahara Desert of Morocco. Conquer the golden dunes and make unforgettable memories as you embark on a journey like no other.
The Allure of the Moroccan Sahara
The Moroccan Sahara is a vast, mesmerizing landscape that has captivated travelers for centuries. Its seemingly endless dunes and unique desert flora and fauna create a surreal environment that must be seen to be believed. Sandboarding in the Sahara offers an unforgettable way to experience the magic of this extraordinary region.
An Adventure Like No Other: Sandboarding in Desert Morocco
Sandboarding, an exhilarating sport akin to snowboarding, is the perfect way to explore the Sahara's majestic dunes. Our experienced local guides will equip you with specially designed sandboards that glide smoothly over the sand, providing a thrilling ride that will leave you craving more.
Our Sahara Desert Sandboarding Packages
Our comprehensive sandboarding adventure package offers an all-inclusive experience designed to create lasting memories:
Round-trip transportation to the Sahara Desert from your chosen pick-up point
Accommodation in traditional Berber tents or luxury desert camps, based on your preference
All meals, featuring authentic Moroccan cuisine
Professional, English-speaking local guides and sandboarding instructors
Sandboarding equipment
Camel treks and other optional desert activities
Safety and Professional Guidance
Your safety and enjoyment are our top priorities. Our expert local guides and sandboarding instructors will ensure that you receive a thorough introduction to sandboarding techniques, safety precautions, and equipment use.
A Unique Adventure for All Ages and Abilities
Our Sahara Desert sandboarding experience is suitable for adventurers of all ages and skill levels, whether you're a solo traveler, a couple, or a family. No prior experience is necessary – our knowledgeable instructors will teach you everything you need to know for a memorable sandboarding adventure.
Don't miss this incredible opportunity to experience the thrill of sandboarding in the stunning Sahara Desert of Morocco. Contact PRIVATE DESERT TOURS today to book your adventure and create memories that will last a lifetime!
Packe
Sandboarding Tours Packages
Explore all the Sandboarding Packages: Click here