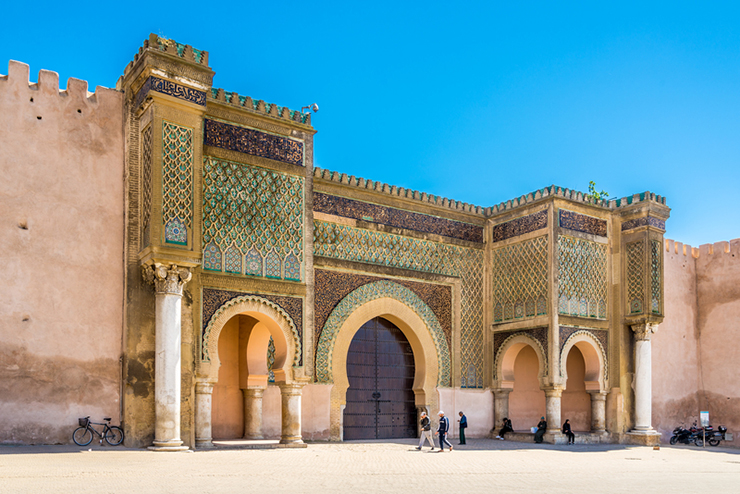 €1,745.00
Location: Chefchouen,From Casablanaca,From Desert,From Fes,from Ouarzazate,Marrakesh
Duration: 10 Days
Imperial Cities, Desert Tour from Casablanca 10 days
Morocco desert tour from Casablanca 10-day is the perfect way to experience authentic Moroccan culture. It combines the majestic and magical Sahara Desert with the four Imperial cities of Marrakech, Rabat, Fes, and Meknes.
The best start to your holiday in Morocco is with a memorable visit to the exquisite Hassan II Mosque in Casablanca. Exploring the main attractions of Rabat, such as the Hassan Tower, the Mausoleum of Mohammed V and the Medina add to these first wonderful impressions.
More of this oriental feeling is on view in the other Imperial cities. This is evident on a full day sightseeing tour in Fes: the medina, the Royal Palace, madrassahs, the leather tanneries. And again on a walking tour in Marrakech to discover its vibrant souks, colourful gardens, madrassahs, beautiful palaces, and Djemaa El Fna.
In the golden dunes of Erg Chebbi the memorable camel ride is an absolute must and a highlight. Your photos of your party wearing turbans the nomad way will bring make fabulous memories. Dancing to Berber music rhythms round a camp fire is a full acoustic experience. Your own private comfortable tent in a luxury desert camp near the big dunes will be the perfect ending to an unforgettable day.
Taking a full-day camel trek in the highest Sahara Desert dunes in Morocco offers a brief glimpse into nomadic life. But you could also opt to take a half-day 4×4 tour around the dunes to Khamlia village. Or you can simply relax in the camp reading your favourite book.
All along the journey, you will meet local people and spend nights in beautiful riads and authentic guest-houses. You get to explore the most famous Kasbahs in Morocco: Kasbah Ait Ben Haddou, Telouet, and Amredhil. You can stretch your legs in the awe-inspiring Dades Valley or hike in the Toudgha Gorges. The scenic views driving through the Atlas Mountains are second to none!
Desert Tour from Casablanca 10 days
Price includes:

Transport in a private air-conditioned comfortable  4×4 van and fuel
Pick-up from and drop-off at your hotel or riad and transfer from and to the airport
Experienced local English-speaking Berber and nomad driver/guide
Accommodation in air-conditioned rooms/suites with private bathroom
The night in a luxury camp in Erg Chebbi with private toilet and shower, lamps, traditional handcrafted  furnishings
Dinners and breakfasts
Camel rides with a guide, and free sandboarding, if desired – just ask the camp staff
Option to go to and return from the camp by 4×4
Luggage service to the camp and all accommodation
Berber drumming and music
Free time to explore the sites such as Ait Ben Haddou, the Ounila Valley, for walks, photos, and tea/coffee breaks
The opportunity to ask the driver to stop when and where you wish
Entrance fees (except in Casablanca, Rabat, Fes and Marrakech)
Local guides in the relevant places
Tea, coffee and mineral water in the desert
Desert Tour from Casablanca 10 days
Flight
Lunch
Drinks
Tips
Extra
Desert Tour from Casablanca 10 days
*The Price Per person
Good to know about the desert tour from Casablanca:
This desert tours from Casablanca package can be tailed to fit your areas of interest
Visiting the Hassan II mosque is not possible on Friday or religious holidays
Activities such as quad-biking, day trips, cooking classes in Fes or Marrakech can be added to this tour
If you want to go to Essaouira, please visit Imperial Cities, Desert, Atlantic, Casablanca Morocco Tours
It is possible to choose to start and/or end this Morocco tour from Marrakech instead
You can choose to go to the camp either on camelback or by 4×4 (then you go for a camel ride)
You can always consult your driver about skipping some places to spend more time elsewhere
You can ask us if others are interested in sharing the tour, or in case of an early booking, let us know that you are interested in this yourselves
We require a 30% deposit of the total price to book the car, while the balance is payable to us in the office in Ouarzazate
We accept payment through PayPal, bank transfers in Europe, by credit card, or cash (USD, Euro, GBP or MAD)
There is a 25% reduction for children under 12 years old, whilst we do not charge children under 5
Morocco desert tours from Casablanca 10 days prices are liable to fluctuation according to the current exchange rate
Our prices are subject to an increase over the Christmas and New Year period
Also, due to globally increased fuel prices, you may receive a higher quotation in our correspondence during other seasons
Desert Tour from Casablanca 10 days
1

Casablanca – Rabat Meet at the airport and travel into the city of Casablanca with the first views of the Moroccan country-side. Visit Hassan II mosque (not possible on Fridays or religious holidays), the largest mosque in Africa and decorated with beautiful tiling of the utmost craftsmanship. You may need to queue a while for tickets and the tour takes about an hour. Continue to the capital city, Rabat, to spend the night in a riad. You may have time to wander around the medina and get a feel of this city.

2

Rabat to Chefchaouen After breakfast, you will have a complete private guided tour of Rabat. TThis busy political centre has a mix of the old and new: wide, tree-lined boulevards in the new town lead to the narrow bustling alleys of the old medina. You have the day to explore: visit the Hassan Tower and the Mausoleum of Mohammed V; the Kasbah Oudaias, dominating the estuary entrance and used to defend the city against pirates; and the Chellah, a 13th century necropolis that also encloses the remains of the ancient Roman City of Sala Colonia. In the afternoon, we will drive to the blue town of Chefchaouen via Kénitra abd Wazzan through the Rif Mountains and other villages. Chefchaouen You will have a day tour in Chefchaouen to explore one of the most beautiful cities in Morocco and a stunning village at the foot of the Rif Mountains. Chefchaouen's medina has a Spanish-style square surrounded by many funky arts and crafts stores, roof-top restaurants, and cafes.

3

Chefchaouen-Volubilis-Meknes-Fes After an early breakfast, you will set out for the ancient Roman ruins of Volubilis, where you will explore the 2000-year-old ruins. After lunch in Moulay Idriss, one of the holiest villages in Morocco, our driver will take you to discover the wonders of Meknes, a city famous for its 16 miles of protective wall. We will visit the Moulay Ismail Mosque and the former royal stables and granaries.

4

Fes Guided Visit Today will be spent exploring Fes, the oldest Imperial City, founded in 790 A.D.Enjoy a full day sightseeing tour in Fes which is the oldest of Morocco's four "Imperial Cities". The medieval city of Fes El Bali, or "Old Fes" remains complete and is unspoiled. During your tour of this part of the town, you can visit the exotic Bou Inania Medersa, the Medina and the Kairaouine Mosque, where you may take photos of the wonderful courtyard from the main gate. You can also visit the mize-maze of souks. In the afternoon you could visit Fes El Jdid, or "New Fes" and the Museum of Moroccan Arts. The night is spent in the riad.. Dinner and overnight at your hotel in Fes.

5

Fes – Merzouga Departure from Fes at 8 o'clock, travelling past Ifrane, where the houses have sloping roofs, remarkable and unusual in Morocco. This is to cope with the yearly snowfall. Near Azrou, 1250m, with the geomorphologic Berber name meaning "rock", you can see Barbary apes in the oak and cedar forests of the Middle Atlas. From here we drive along the N13 south over the Middle Atlas, passing through Timahdite. This is another Berber name, and as the word begins and ends with the letter "t", it signifies it is feminine. We reach Midelt, 1508M, which is called "the apple capital" of Morocco and lies at the foot of the Ayachi Mountain. The town serves as the commercial agricultural centre for the surrounding area. It is also one of Morocco's principle cities for the mining of several minerals, such as fluorite, vanadinite, quartz, and cerussite. This is where we will stop for lunch. We continue south travelling over the Tizi-n-Talghemt pass, known as the "she-camel" pass. We descend through the Ziz Valley, which is particularly well-known for its palm trees and the length of the oasis. All along the road, there are innumerable "ksars", small villages of individual houses. From here, we reach the mining town of Er Rachidia (e.g copper and malachite) and then Erfoud, famous for its date festival and fossils. It is fascinating to see how these millions of fossils have been worked into artifacts. There is no obligation to buy anything in these shops! You continue to Rissani and finally the famous red Erg Chebbi dunes in Merzouga. You take a camel ride of an hour to an hour & a half, either setting out from the camp or to it. There is also the possibility to take the 4×4 to the camp. Sand Dunes and Sahara Desert near Merzouga During this day, you will explore the desert area and the marvels of the Erg Chebbi dunes. You will have the opportunity to discover the nomads' way of life and the amazing contrasts of the desert. You will visit the Khamlia to see the Gnawa musicians before we continue to Tafilalet with its 18th century ksour, an almost impenetrable warren of alleys. We then continue to the ruins of Sijilmassa. After a lunch of local food (Madfouna or Berber pizza), we will return to the dunes of the Merzouga desert. In the afternoon: You will ride the camels to see the sunset over the dunes and spend the night in the desert camp. You will have a traditional dinner, drink delicious mint tea, and listen to Berber music while watching the stars and the rising moon in the amazing Sahara Desert You have dinner and spend the night at a luxury camp with private bathroom, king-sized beds, beautiful Moroccan furnishings and lamps tastefully arranged to enhance your enjoyment of the silence and beauty of the dunes.

6

Merzouga – Dades Gorges If you wake up early enough, you can watch the spectacle of the sunrise, when the colour of the dunes and the play of shadows are an awesome sight. After breakfast at the camp, we leave for Tinghir and the Toudgha gorges. On the way, you pass the water channels – "khettarat". You can descend into them to appreciate the architecture and genius behind this form of irrigation which prevents evaporation in the summer heat. The channels start at a higher gradient at one end until they finally emerge at the surface of the soil. You can find out more about these channels by reading Andrew Wilson's work. In the gorge and the valley, there are opportunities to walk beyond the gorge itself or by the village gardens and fields before you reach it. Later the itinerary continues to the Dades Valley. The area, which now forms the Dades Gorges, lay at the bottom of the sea millions of years ago. Great quantities of sediment were deposited around giant coral reefs. Over time this material became compacted into a variety of sedimentary rocks such as sandstone and limestone. Eventually, the movement of the earth's crust caused the region to rise above the sea, forming the Atlas Mountains and surrounding landscape. The night is spent in a hotel or kasbah.

7

Dades – Ouarzazate After breakfast, a visit to the Dades gorges and a short walk there is scheduled. Later we go off-road along the Boutarar piste to visit Berber nomads in their caves and have tea with them. This visit makes it clear to the visitor just how hard nomadic existence is, trying to feed their goats and bring up their children. From here we continue through the Valley of the Roses, famous for its Rose Festival in May. Cosmetics and toiletry items are produced and valued throughout the country. In Skoura and the oasis there, Kasbah Amredhil waits for a very worth-while visit. The kasbah has been beautifully restored and gives a clear idea of life within such housing. It is made entirely of adobe, an excellent building material; warm in winter and cool in summer, due to the thickness of the walls. 45 minutes later you reach Ouarzazate, where you spend the night in a guest house.

8

Ouarzazate – Marrakech After breakfast, the route goes on to Kasbah Ait Ben Haddou, one of Morocco's seven World Heritage sites, and the backdrop for many Hollywood blockbusters. It is the most famous Kasbah in Morocco and some of the buildings date back to the 17th century. From here you drive along the beautiful and awe-inspiring, winding Ounila Valley, full of surprises at the colours of the rock and soil and Berber villages and gardens. We continue to Telouet set right in the midst of the mountains. It was once the seat of the last Pasha of Marrakech, El Glaoui, from where the highest pass in Africa, Tizi-n-Tichka was controlled. Each addition to the building now stands in ruins exposed to the wind and the rain after it was abandoned and plundered when Thami El Glaoui, left the country following the departure of the French in 1956. Wait to be pleasantly surprised by the traditional interior decoration as you reach the farthest end of the Kasbah. At the end of the afternoon, having crossed the Tichka pass, we arrive in Marrakech.

9

Marrakech Sightseeing Tour Marrakech is probably best known for central Djemma El Fna with its juice stalls, dried fruit and nut stalls, women applying henna, snake charmers, storytellers and the myriad of nightly food stalls. You will visit the following places according to time and inclination: the Majorelle Gardens which belonged to Yves St Laurent and is famous for its special shade of blue, the Koutoubia Mosque, the El Bahia Palace which means "the palace of the beautiful", (don't miss out the lovely garden right at the back), the Qoranic School – the Ben Youssef Medersa which used to house some 80 Qoranic students, the Saadian Tombs, the Jewish souk in the Mellah, and the paradise garden of le Jardin Secret. You spend another night in your riad. Instead of the walking tour of Marrakech, we could organise a cooking class for Moroccan cuisine. This would add an extra fee.

10

Marrakech to Casablanca Transfer from your riad to Casablanca airport in time for the check-in before your flight. Your wonderful desert Tours from Casablanca adventure ends as your driver escorts you to the airport.
Contact us
Zine Elabidine
+212667897512
privatedeserttours@gmail.com
Concat Us
Centre Mhamid Elghizlane 47402
+212667897512
Related Tour Packages
Found this company on the website and from the start Abidine was really fantastic. He was very quick in replying and accommodating to our requests. We did a 10 day... read more trip with them. We were met at Marrakech airport by our driver Ismail. I think luck was on our side when we got this guy. He spent the next nine days with us. He was a fantastic driver, yet cautious and caring about our needs. Every night he would escort us to our Riad and did not leave till we were settled in. True regard for us. The highlight, of course was the desert trip. Ismail was born and raised in the desert, so was no stranger to the surroundings, which made us very comfortable. He turned out to be a good musician, playing the drums at the night get together around the fire. The trip included going to Essaouira, Casablanca, Chefchaouen, Meknes, Fes, Dades Valley, Aitbenhaddo, among other very interesting places, all taken care of by PDTours. We thoroughly enjoyed the beautiful scenery, the local people, the tantalizing food,the camel ride and the magic of the desert all in part to Ismail. I highly recommend this company and I cannot say enough about our driver, as the driver can dictate how your vacation will be and ours was extremely good.

oddyoboy


08/12/2019

Me and another 3 friends went to morocco to spend a week there. We had the incredible luck of having Abdul as a guide for the whole trip. Not only... read more did he prepare all the points of interest to visit according to our demands and timetable, but he also ensured that we had the best of the experiences there: he drove us through the desert for the whole week with a smile, we listened to both his and our music while traversing amazing landscapes, stopping whenever we required to rest and eat at the places he recommended, which never disappointed. He also took us to the most remarkable cities and places: I will never forget our days at marraketch or the dunes in the desert and sleeping surrounded by them and the stars. 11 out of 10. I couldn't imagine a better guide for such a travel.

Fedestroncio


22/10/2019

Fantastic tour, great people! - My wife and I decided to explore Morocco for our Honeymoon - we had limited time (less than a week) and wanted to see many spots. We booked Private Desert... read more Tours and we could not be happier with how it turned out. Our driver, Ismael, was fantastic, professional and accommodating. In 5 days, we visited everything that was on our list: Dade's valley, Erg Chebbi desert, Berber Villages, Fez, Chefchaouen, Casablanca (which wasn't on the list but Isamel managed to make a short detour to accommodate us). The tour started on Monday morning from Marrakesh and ended Friday afternoon back in Marrakesh. We travel quite a bit, and this was one of the most wholesome and complete experience we've encountered - highly recommended.

traveldooda


18/02/2023

From day one, Abidine was extremely responsive and helpful with our questions and helping us with our decision on picking the right tour for our time frame in Morocco. Always... read more very pleasant and professional, we had no problem booking our tour for two
abroad. Thank you Abidine for all of your help and organization!

When our 3-day tour actually started, we had no idea we were in for the trip of our lives. Our driver and guide, Ismaï, was prompt and on schedule, yet patient and accommodating for us whenever we wanted to stop for pictures. Also, he was great company with lots of insight without being an overbearing tour guide. He knows his way around..he never had to look at the map!

All stops were culturally immersive and fun, especially the Berber guest house in Gorges Dades. Very kind people who took care of us and cooked us the best dinner we had in Morocco! Not to mention the camel trekking and staying in the Berber tent. An unforgettable nights.

This is the real deal for a tour. Private is not an understatement, it was just us two with our private drive and our time. We were so happy we weren't on the bus tours loaded with other tourists. Private Desert Tours has given us memories for all our lives and we will without a doubt recommend this tour to any friends or family who plan to travel to Morocco. Our dream is to return one day and we will be booking with Private Desert Tours again.

Scott_Fairfax_CA


02/06/2019

This was a unique experience which me and my family will cherish for the rest of our lives. Thank you Abidine for making it possible. Your prompt response to all... read more my queries helped me plan my trip better. A million thanks to Ismail (our guide) who made sure we had a wonderful time through the trip. We feel like we made a great friend in him. From introducing us to local music, to tirelessly driving the 4 days, to taking us to these amazing riads run by the most wonderful people, to showing us the main sites to see along the way - he was simply amazing. This tour helped us experience Morocco in a way that no other tour could. We met amazing families who hosted us. The desert camp was spectacular. I was worried that being a vegetarian and not being able to speak arabic or french would be major hurdles - definitely not so. This tour made it so easy to manage. This is something I would recommend to anyone planning on spending time in Morocco.

485srivatsans


08/07/2019

A Great Experience - We hired Private Desert Tours to take 4 of us around Morocco for 11 days, and we were more than pleased with our experience!
Starting with our communications with... read more Abiden, that were always promptly and professionally answered, to our days with Ismail, as our driver, we were more than happy!
Abiden set our tour up to take us where we asked, and had every detail covered. He had Ismail, our driver , meet us at the airport, and take us to our Riad. From that moment on, Ismail took care of us. He was an excellent, polite and courteous driver through all our long journeys around this amazing country! Every day Ismail got us where ever we were supposed to be. In the evening, he made sure we were settled at our Riad, before leaving us. Ismail would be at our Riad on time each morning to help us get our luggage to the car, and be on our way.
We journeyed from Marrakesh, to Essaouira, to Casablanca, Rabat, then Chefchouan, to Meknès, Merzouga ( the desert), and beyond with Ismail. We switched drivers before heading in through the High Atlas Mountains, as Ismail had to start with a new group. Our new driver, Adeel, was a very careful, confident driver through those rugged mountains, and on to Marrakesh.
In order to see as much of the country as possible, we put on a lot of kilometres. Some days had long stretches of driving, but we saw so many incredible wonders in this diverse and beautiful country!
Many thanks to Abiden, Ismail, and Adele for a trip of a lifetime!

Sue3020


16/11/2019

Our trip to desert Erg Chebbi dunes was amazing. The gorges and the desert were spectacular. The food everywhere was delicious but most of all our guide Abdoul was a... read more delight. Our trip to Morocco will always have a special place in our hearts because of Abdoul. He was incredibly polite and courteous. He was patient and always was happy to stop where ever we wanted. His great love and respect for his country was wonderful to see and so rare in our modern times. He has a very positive effect on my children. We all felt very sad when our trip came to an end. On the plane as we were about to take off both of my children looked out of their windows and said " Thank you Private Desert Tours And Goodbye Morocco,

Manuelayp


30/05/2019

Memorable Experience! - With the coordination of Private Desert Tours we recently completed a tour of Morocco with another couple. We started our 11 day tour in Casablanca and completed it in... read more Marrakech. I cannot say enough positive things about our driver Ismail - he not only provided information during our drive, but he also coodinated tour guides, & ensured our accommodations were set. All around it was a memorable experience!

Eli M


18/11/2022

I must say we really enjoyed the 3-day tour especially the hours in the Sahara, Dades, Todra and Ait Ben haddou as well as the 2 hotels & restaurants that... read more you recommended. These days serve a big break for us after lots of hassle in Marrakech as we were couple so outstanding there. Abdou, our driver, was very nice, friendly & helpful and he is the type person that does not keep you on talking which perfectly fits our style. Last not not least, thank you Abdoul of taking care of us during the 3 day and we'll not hesitate to recommend Private desert tours

761sabrines


31/05/2019
Testimonials
Excellent Tour in Morocco white amazing scenery fun guide and driver we could not be more happy of choosing this agency his Driver Guide informed about all the places we visited Next time in Morocco we would do our excursion again with this Agency.
-- Andria
From Marrakesh to the desert, 3 days and 2 nights, one of them in the desert with all the expected attractions, a spetacular sun set and a super nice "crew" for dinner and music! The previous nighto we spent in an oasis on a cute and super nice hotel owned by Belgium/French couple in Skoura. Abdul was the nicest driver/guide we ever had, good mood, good with out teenager son and super informed about local culture history and attractions.
-- Alex
I was traveling with my husband and teenage son and Ali made the trip so exciting and informative. My son especially enjoyed his time in the desert sand boarding and rug boarding. We enjoyed ourselves so much at sunset we also added on the sunrise camel trip last minute without any issues to accommodate our request. If you are looking for honest, safe, know ledgable guides…this is your company to go to!
-- Eliza Tess