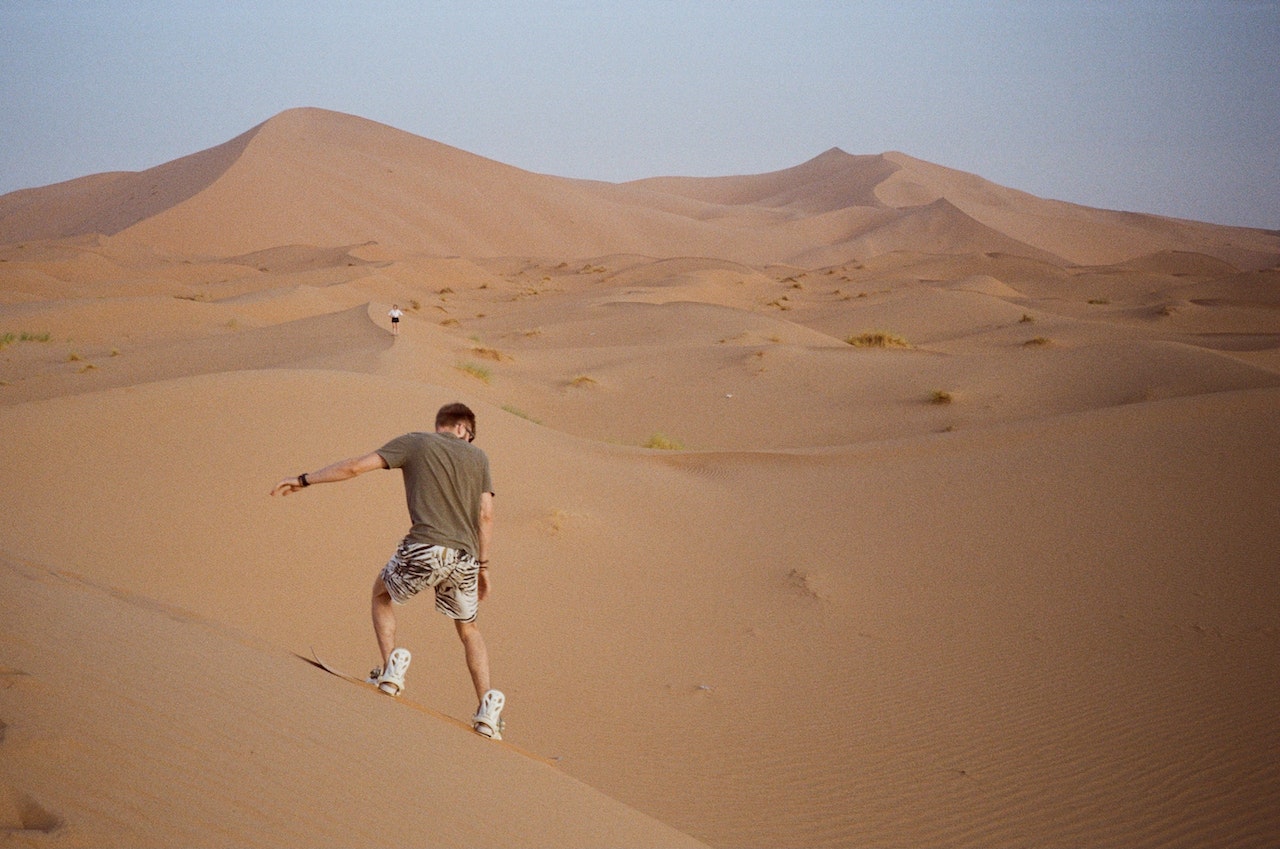 €90.00
Location: From Desert
Duration: 2 Days
Sandboarding Tour in Erg Chegaga From Mhamid 2-Day, 1-Night

 
Are you ready for an unforgettable adventure? Join PRIVATE DESERT TOURS for an exhilarating Sandboarding Tour in Erg Chegaga From Mhamid amidst the breathtaking sand dunes of Erg Chegaga, Morocco! Glide down the golden dunes and create memories that will last a lifetime on this once-in-a-lifetime journey.
Experience the Magic of Erg Chegaga
Located in the Moroccan Sahara, Erg Chegaga is one of the most captivating sand dune regions in the world. Boasting vast expanses of golden sand and towering dunes that reach up to 300 meters, Erg Chegaga is an awe-inspiring destination that offers a unique and thrilling experience for adventure seekers.
Experience the Magic of Erg Chegaga
Located in the Moroccan Sahara, Erg Chegaga is one of the most captivating sand dune regions in the world. Boasting vast expanses of golden sand and towering dunes that reach up to 300 meters, Erg Chegaga is an awe-inspiring destination that offers a unique and thrilling experience for adventure seekers.
 Departure from M'hamid: any time from 10:00 – 17:00 O'clock 
Begin your journey with a departure from M'hamid, a small village in the Draa Valley, known as the "Gateway to the Desert".
 Sacred Oasis
Visit the Sacred Oasis, a tranquil spot surrounded by palm trees and known for its ancient legends. Take some time to learn about the local customs and stories.
Picnic Lunch ( if you start your trip at 10:00 Oclock from Mhamid )
Enjoy a picnic lunch in the shade of a tamarisk tree, a perfect opportunity to relax and take in the beauty of the desert.
Drive to Erg Chegaga
Continue your journey to Erg Chegaga, one of the most stunning and remote sand dune areas in the Moroccan Sahara.  Passing through diverse landscapes and desert plains.
Erg Chegaga " Sandboarding Tour in Erg Chegaga From Mhamid "
Arrive at Erg Chegaga and enjoy a camel ride or walk through the majestic dunes. Climb to the top for a panoramic view of the surrounding landscape.
07:00 PM: Dinner at the camp
Enjoy a traditional Moroccan dinner at your desert camp, featuring tagine, couscous, and other local delicacies.
08:30 PM: Stargazing and campfire
Gather around the campfire for an evening of storytelling, traditional music, and stargazing in the crystal-clear desert sky.
Day 2: Erg Chegaga  – M'hamid
06:30 AM: Sunrise and breakfast
Wake up early to witness the breathtaking sunrise over the dunes, followed by a hearty breakfast at the camp.
08:00 AM: Departure from Erg Chegaga
Depart Erg Chegaga for the next leg of your adventure, driving towards Iriqui National Park.
10:30 AM: Iriqui National Park
Explore the diverse landscapes of Iriqui National Park, including its dry lakebeds, acacia forests, and unique wildlife.
12:30 PM: Picnic Lunch
Enjoy another picnic lunch in the park, taking in the beauty and serenity of the surroundings.
02:00 PM: Return to M'hamid
Conclude your unforgettable 2-day, 1-night tour by driving back to M'hamid, where you'll arrive in the early evening, taking with you memories that will last a lifetime.
Price information
EUR 90 per person when 2 persons travel together

EUR 75 per person

when 3 persons travel together

EUR 62 per person when 4 persons or more travel together
Price Luxury Level

EUR 275 per person when 2 persons travel together

EUR 259 per person

when 3 persons travel together

EUR 230 per person when 4 persons or more travel together

For larger groups, please contact us for pricing.

NB: Feel free to stay additional days in the desert, for an extra fee.

Including:

Shared transport in 4×4 Landcruiser

Guide/driver

1 night in a desert camp in Erg Chigaga

1 dinner

1 breakfast

Camel ride

Sandboarding Experience

Local music is played by the nomads around the campfire

Not included:
Note: The itinerary may be subject to change due to weather conditions or other unforeseen circumstances.
Sandboarding Tour in Erg Chegaga From Mhamid
Contact us
Zine Elabidine
+212667897512
privatedeserttours@gmail.com
Concat Us
Centre Mhamid Elghizlane 47402
+212667897512
Related Tour Packages
This was a unique experience which me and my family will cherish for the rest of our lives. Thank you Abidine for making it possible. Your prompt response to all... read more my queries helped me plan my trip better. A million thanks to Ismail (our guide) who made sure we had a wonderful time through the trip. We feel like we made a great friend in him. From introducing us to local music, to tirelessly driving the 4 days, to taking us to these amazing riads run by the most wonderful people, to showing us the main sites to see along the way - he was simply amazing. This tour helped us experience Morocco in a way that no other tour could. We met amazing families who hosted us. The desert camp was spectacular. I was worried that being a vegetarian and not being able to speak arabic or french would be major hurdles - definitely not so. This tour made it so easy to manage. This is something I would recommend to anyone planning on spending time in Morocco.

485srivatsans


08/07/2019

Incredible Memories Made! - My partner and I stayed in Morocco for 12 days in January 2023 and discovered Private Desert Tours only a week before we were due to arrive. The 5 day... read more tour slotted in perfectly with our gap in the middle of our holiday. It was the last thing we booked, and anytime we visit Morocco again, a tour with Private Desert Tours will be the first thing we book. It was honestly brilliant!

Our guide/driver Ismail met us at our Riad in Marrakech and could not have been more helpful. He was welcoming, chatting to us about places we were passing, teaching us phrases and we wouldn't have seen even a fraction of Morocco if it wasn't for Ismail. He really made this trip such a wonderful and relaxed experience.

The highlight for me was camel riding and visiting the desert as it was truly magicial and it's somewhere I will go back again and again.

If you're thinking of doing a tour I cannot recommend Private Desert Tours enough, communication was exceptional, if we had any questions we could ask via whats app and get a quick response. It felt like they really cared about giving us the best experience. (And we really did).

We cannot thank Private Desert Tours and Ismail enough for giving us the best experience and best start to 2023. Thank you for the incredible memories!

michellehH499TN


21/02/2023

Our trip to desert Erg Chebbi dunes was amazing. The gorges and the desert were spectacular. The food everywhere was delicious but most of all our guide Abdoul was a... read more delight. Our trip to Morocco will always have a special place in our hearts because of Abdoul. He was incredibly polite and courteous. He was patient and always was happy to stop where ever we wanted. His great love and respect for his country was wonderful to see and so rare in our modern times. He has a very positive effect on my children. We all felt very sad when our trip came to an end. On the plane as we were about to take off both of my children looked out of their windows and said " Thank you Private Desert Tours And Goodbye Morocco,

Manuelayp


30/05/2019

From day one, Abidine was extremely responsive and helpful with our questions and helping us with our decision on picking the right tour for our time frame in Morocco. Always... read more very pleasant and professional, we had no problem booking our tour for two
abroad. Thank you Abidine for all of your help and organization!

When our 3-day tour actually started, we had no idea we were in for the trip of our lives. Our driver and guide, Ismaï, was prompt and on schedule, yet patient and accommodating for us whenever we wanted to stop for pictures. Also, he was great company with lots of insight without being an overbearing tour guide. He knows his way around..he never had to look at the map!

All stops were culturally immersive and fun, especially the Berber guest house in Gorges Dades. Very kind people who took care of us and cooked us the best dinner we had in Morocco! Not to mention the camel trekking and staying in the Berber tent. An unforgettable nights.

This is the real deal for a tour. Private is not an understatement, it was just us two with our private drive and our time. We were so happy we weren't on the bus tours loaded with other tourists. Private Desert Tours has given us memories for all our lives and we will without a doubt recommend this tour to any friends or family who plan to travel to Morocco. Our dream is to return one day and we will be booking with Private Desert Tours again.

Scott_Fairfax_CA


02/06/2019

Our honeymoon in Morocco was unreal thanks to Abidine . The planning was seamless and stress free. We simply highlighted the destinations we wanted to visit and the rest was... read more magic. From the hotels, food and guides there was not one complaint. The culture, people and architecture is outstanding.

One highlight of our trip was the outstanding customer service. We received treatment as if we were staying at the Riad everywhere. Moroccan's are deeply invested in tourism. Our driver, Ismail was extremely professional and knowledgeable. He kept us safe and on schedule as well as provided great company. He tied the whole trip together and we could not have imagined a better trip leader.

I am recommending PRIVATE DESERT TOURS to all of my friends and family. We plan to use their service again in the near future.

stephankarbaja


05/05/2019

We both had a fantastic time!. Abidine was wonderful . He was sweet, dependable guy who went out of his way to help us on many occassions. Thank you... read more for making the planning for us! You were easy to work with and very responsive. Thank you so much do the wonderful trip !

Mchicha F


31/05/2019

My friend recommended this private desert tour once he got back from his trip to Marrakech. He talked highly about Abidine and his team. I was worry about the heat... read more and some other logistics stuff but my confidence got boosted up as Abidine was very responsive and gave us a lot of informations. We were blessed to have Ismael as our driver and travel companion. Abidine and Ismael really took my worries away. Ismael was very on time yet very flexible with our requests. I could not memorize all the places he took us to but all of these places made my Morocco experience completed. Some of the tours that really stays in my heart is the visit to Ait Ben Haddou, the Berber house where Beber womens make rugs, and of course the Sahara adventures. Ismael was not only our driver, he also become a friend for a life time. It's amazing how trust built in only a day. That's how sweet and good he is. His driving is very good as well. My husband said he feel save traveling with him. When Ismael performed the Berber music in the camp, it was a perfect icing on the cake. I definitely going to recommend this tour to every single people I know who will go to Morocco! All in all.....SUPER!!!

Pancaliputri80


25/09/2019

A Great Experience - We hired Private Desert Tours to take 4 of us around Morocco for 11 days, and we were more than pleased with our experience!
Starting with our communications with... read more Abiden, that were always promptly and professionally answered, to our days with Ismail, as our driver, we were more than happy!
Abiden set our tour up to take us where we asked, and had every detail covered. He had Ismail, our driver , meet us at the airport, and take us to our Riad. From that moment on, Ismail took care of us. He was an excellent, polite and courteous driver through all our long journeys around this amazing country! Every day Ismail got us where ever we were supposed to be. In the evening, he made sure we were settled at our Riad, before leaving us. Ismail would be at our Riad on time each morning to help us get our luggage to the car, and be on our way.
We journeyed from Marrakesh, to Essaouira, to Casablanca, Rabat, then Chefchouan, to Meknès, Merzouga ( the desert), and beyond with Ismail. We switched drivers before heading in through the High Atlas Mountains, as Ismail had to start with a new group. Our new driver, Adeel, was a very careful, confident driver through those rugged mountains, and on to Marrakesh.
In order to see as much of the country as possible, we put on a lot of kilometres. Some days had long stretches of driving, but we saw so many incredible wonders in this diverse and beautiful country!
Many thanks to Abiden, Ismail, and Adele for a trip of a lifetime!

Sue3020


16/11/2019

Fantastic tour, great people! - My wife and I decided to explore Morocco for our Honeymoon - we had limited time (less than a week) and wanted to see many spots. We booked Private Desert... read more Tours and we could not be happier with how it turned out. Our driver, Ismael, was fantastic, professional and accommodating. In 5 days, we visited everything that was on our list: Dade's valley, Erg Chebbi desert, Berber Villages, Fez, Chefchaouen, Casablanca (which wasn't on the list but Isamel managed to make a short detour to accommodate us). The tour started on Monday morning from Marrakesh and ended Friday afternoon back in Marrakesh. We travel quite a bit, and this was one of the most wholesome and complete experience we've encountered - highly recommended.

traveldooda


18/02/2023
Testimonials
Excellent Tour in Morocco white amazing scenery fun guide and driver we could not be more happy of choosing this agency his Driver Guide informed about all the places we visited Next time in Morocco we would do our excursion again with this Agency.
-- Andria
From Marrakesh to the desert, 3 days and 2 nights, one of them in the desert with all the expected attractions, a spetacular sun set and a super nice "crew" for dinner and music! The previous nighto we spent in an oasis on a cute and super nice hotel owned by Belgium/French couple in Skoura. Abdul was the nicest driver/guide we ever had, good mood, good with out teenager son and super informed about local culture history and attractions.
-- Alex
I was traveling with my husband and teenage son and Ali made the trip so exciting and informative. My son especially enjoyed his time in the desert sand boarding and rug boarding. We enjoyed ourselves so much at sunset we also added on the sunrise camel trip last minute without any issues to accommodate our request. If you are looking for honest, safe, know ledgable guides…this is your company to go to!
-- Eliza Tess