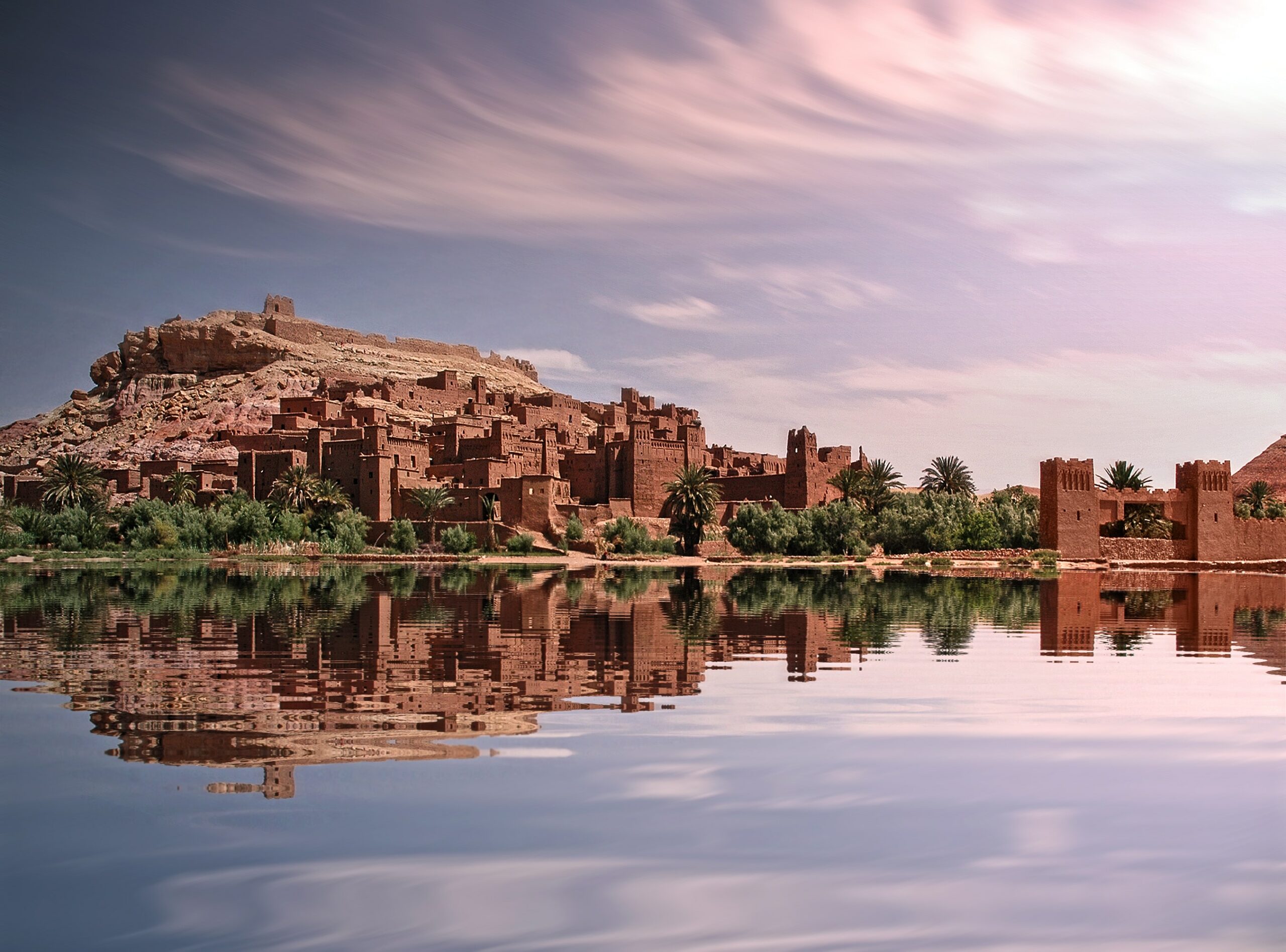 €585.00
Location: from Ouarzazate
Duration: 3 Days
Ouarzazate Desert Tour 3 Days
By booking the Ouarzazate desert tour to  Erg Chebbi Dunes tour, you guarantee an authentic desert adventure in one of the most popular tourist destinations in the south. As you embark on this journey, you will have the opportunity to immerse yourself in the fascinating world of Berber life. Explore Skoura's oasis and visit the captivating Kasbah of Amredhil. Indulge in the aromatic Damascene rose cosmetic products in the Valley of the Roses. Venture off the beaten path to a remote area that serves as a living space for local Berber nomads, where you can pause and share a cup of tea with a nomadic family.
In the mesmerizing Dades Valley, marvel at the geologically intriguing rocks and hillsides. Spend the night in a charming guest-house, nestled within this captivating valley. The following day, discover and wander through the other gorges in Toudgha.
In the heart of the desert, savor the long-awaited camel ride that will carry you to the summit of the dunes. From there, witness the enchanting sunset, a true highlight of the day. Return to the desert camp and indulge in a delightful feast. Gather around the campfire, where the day concludes with traditional nomad and Berber music, inviting you to join in. The serene ambiance of the desert and your private tent will lull you to sleep, as you reflect on the day's exhilarating experiences.
Wake up the next morning and relish the spectacle of the sunrise from the highest dunes nearby. In the Dra'a Valley, adorned with countless palm trees, ancient dwellings, and desert oases, you will gain a deeper understanding of the Berbers' centuries-old way of life. Don't miss the opportunity to visit the oldest Kasbah in the Dra'a Valley, a true gem.
Throughout the entire journey, feel free to request stops at panoramic viewpoints to capture memorable photographs and stretch your legs.
Ouarzazate desert tour 3 days :
Ouarzazate Desert Tour 3 Days
1

--Day 1: Ouarzazate - Dades Gorges-- Commence your journey at 8:30 in the morning from Ouarzazate towards the picturesque Dades Gorge. Along the way, witness the stunning Skoura Oasis, where ancient kasbahs gracefully stand amidst a backdrop of palm trees, although some are sadly in ruins. Continue your route through Kela'a M'gouna, known as the Valley of Roses, where you'll have the opportunity to observe and admire the locally made cosmetic articles derived from the valley's abundant blossoms. These products are highly renowned throughout Morocco. Embark on an off-road adventure, allowing you to truly immerse yourself in the landscape and visit Berber nomads, who will warmly welcome you with a glass of tea. Enjoy a delectable lunch in the Dades Gorge, followed by leisurely walks through the gorges, fields, and gardens. Spend the night in a comfortable hotel or Kasbah, or if you prefer, venture into the hills and experience an overnight stay with a Berber family.

2

--Day 2: Dades Gorges - Merzouga-- After breakfast, continue your journey towards Tinghir and the remarkable Toudgha Gorges, offering breathtaking views of the gorge's steep sides and the narrow expanse of sky above. From there, proceed to the Chebbi dunes, passing through Tinjdad and the Oasis of Tafilalet near Erfoud, renowned for its Date Festival. Rissani, the seat of the Alaouite family, the current ruling family of Morocco, is also on the route. Make a stop between Tinjdad and Erfoud to explore the fascinating underground water channels, providing cool temperatures and preserving this vital source of irrigation. In Erfoud, take a moment to witness the intricate craftsmanship of thousands of fossils transformed into various artifacts. Enjoy a delightful lunch in a Berber village along the way. Upon reaching the campsite, be greeted with a refreshing glass of tea before embarking on a memorable camel ride to the top of the dunes, where you can witness the enchanting sunset. Dinner awaits you at a luxurious camp equipped with private bathrooms, king-sized beds, and tastefully arranged Moroccan furnishings and lamps, enhancing your experience of the serene beauty of the dunes.

3

--Day 3: Merzouga - Ouarzazate-- For the early risers, behold the awe-inspiring spectacle of the sunrise, where the vibrant colors of the dunes and dancing shadows create a mesmerizing sight. The journey continues towards the Dra'a Valley, passing through the village of Tazzarine, featured in the film 'Babel,' and onward to N'Qob for a satisfying lunch. In the afternoon, explore Tanasikht and traverse the ancient caravan route, revealing the authentic beauty of the Dra'a Valley with its majestic palm trees and ancient villages. Outside Agdez, the valley's gateway, pay a visit to Kasbah Tamnougalte, the oldest Kasbah in the entire valley, still inhabited by several families. Return to Ouarzazate via the Anti Atlas Mountains and the Tizi-n-Tinfifte pass, arriving back in the late afternoon. Your three-day desert adventure from Ouarzazate to Merzouga concludes as your driver safely escorts you back to your riad. Expect to arrive in Ouarzazate around 18:00, marking the end of your memorable Ouarzazate to Erg Chebbi dunes tour spanning three incredible days.
Contact us
Zine Elabidine
+212667897512
privatedeserttours@gmail.com
Concat Us
Centre Mhamid Elghizlane 47402
+212667897512
Related Tour Packages
Memorable Experience! - With the coordination of Private Desert Tours we recently completed a tour of Morocco with another couple. We started our 11 day tour in Casablanca and completed it in... read more Marrakech. I cannot say enough positive things about our driver Ismail - he not only provided information during our drive, but he also coodinated tour guides, & ensured our accommodations were set. All around it was a memorable experience!

Eli M


18/11/2022

This was a unique experience which me and my family will cherish for the rest of our lives. Thank you Abidine for making it possible. Your prompt response to all... read more my queries helped me plan my trip better. A million thanks to Ismail (our guide) who made sure we had a wonderful time through the trip. We feel like we made a great friend in him. From introducing us to local music, to tirelessly driving the 4 days, to taking us to these amazing riads run by the most wonderful people, to showing us the main sites to see along the way - he was simply amazing. This tour helped us experience Morocco in a way that no other tour could. We met amazing families who hosted us. The desert camp was spectacular. I was worried that being a vegetarian and not being able to speak arabic or french would be major hurdles - definitely not so. This tour made it so easy to manage. This is something I would recommend to anyone planning on spending time in Morocco.

485srivatsans


08/07/2019

I must say we really enjoyed the 3-day tour especially the hours in the Sahara, Dades, Todra and Ait Ben haddou as well as the 2 hotels & restaurants that... read more you recommended. These days serve a big break for us after lots of hassle in Marrakech as we were couple so outstanding there. Abdou, our driver, was very nice, friendly & helpful and he is the type person that does not keep you on talking which perfectly fits our style. Last not not least, thank you Abdoul of taking care of us during the 3 day and we'll not hesitate to recommend Private desert tours

761sabrines


31/05/2019

Me and another 3 friends went to morocco to spend a week there. We had the incredible luck of having Abdul as a guide for the whole trip. Not only... read more did he prepare all the points of interest to visit according to our demands and timetable, but he also ensured that we had the best of the experiences there: he drove us through the desert for the whole week with a smile, we listened to both his and our music while traversing amazing landscapes, stopping whenever we required to rest and eat at the places he recommended, which never disappointed. He also took us to the most remarkable cities and places: I will never forget our days at marraketch or the dunes in the desert and sleeping surrounded by them and the stars. 11 out of 10. I couldn't imagine a better guide for such a travel.

Fedestroncio


22/10/2019

My friends and I had a blast touring the Sahara Desert! The trip to and from the desert was full of lots of fun stops, but our experience in the... read more Sahara was truly a once-in-a-lifetime adventure. Abdoul was a wonderful guide and taught us so much about Morocco. Abidene graciously answered many questions from us prior to the trip and was easily able to arrange for vegetarian meals. We truly had an incredible experience - it's been the highlight of our trip; and I highly recommend Private Desert Tours. I plan on booking another, longer tour with them the next time I visit Morocco!!

khylieesi


09/03/2023

Incredible Memories Made! - My partner and I stayed in Morocco for 12 days in January 2023 and discovered Private Desert Tours only a week before we were due to arrive. The 5 day... read more tour slotted in perfectly with our gap in the middle of our holiday. It was the last thing we booked, and anytime we visit Morocco again, a tour with Private Desert Tours will be the first thing we book. It was honestly brilliant!

Our guide/driver Ismail met us at our Riad in Marrakech and could not have been more helpful. He was welcoming, chatting to us about places we were passing, teaching us phrases and we wouldn't have seen even a fraction of Morocco if it wasn't for Ismail. He really made this trip such a wonderful and relaxed experience.

The highlight for me was camel riding and visiting the desert as it was truly magicial and it's somewhere I will go back again and again.

If you're thinking of doing a tour I cannot recommend Private Desert Tours enough, communication was exceptional, if we had any questions we could ask via whats app and get a quick response. It felt like they really cared about giving us the best experience. (And we really did).

We cannot thank Private Desert Tours and Ismail enough for giving us the best experience and best start to 2023. Thank you for the incredible memories!

michellehH499TN


21/02/2023

I already went on a desert tour with Abidine last february and I was absolutely amazed and stunned by the atmosphere in the desert and the insight I got in... read more both the nature and the culture and traditions of nomad life. It was an experience so different to everything I knew that I told my friends they should go on a tour as well. The five of us returned some month later to spend a whole week in the Sahara and we all loved it. Abidine is the greatest organizer I know, he thought about everything and cared about our wellbeing. He and the guides served us traditional food and at night we were telling stories at the bonfire. We could relax and enjoy the landscape and walking. I wish for everybody to once experience this. Thank you so much Abidine!

worldchild_mira


13/05/2019
Testimonials
Excellent Tour in Morocco white amazing scenery fun guide and driver we could not be more happy of choosing this agency his Driver Guide informed about all the places we visited Next time in Morocco we would do our excursion again with this Agency.
-- Andria
From Marrakesh to the desert, 3 days and 2 nights, one of them in the desert with all the expected attractions, a spetacular sun set and a super nice "crew" for dinner and music! The previous nighto we spent in an oasis on a cute and super nice hotel owned by Belgium/French couple in Skoura. Abdul was the nicest driver/guide we ever had, good mood, good with out teenager son and super informed about local culture history and attractions.
-- Alex
I was traveling with my husband and teenage son and Ali made the trip so exciting and informative. My son especially enjoyed his time in the desert sand boarding and rug boarding. We enjoyed ourselves so much at sunset we also added on the sunrise camel trip last minute without any issues to accommodate our request. If you are looking for honest, safe, know ledgable guides…this is your company to go to!
-- Eliza Tess