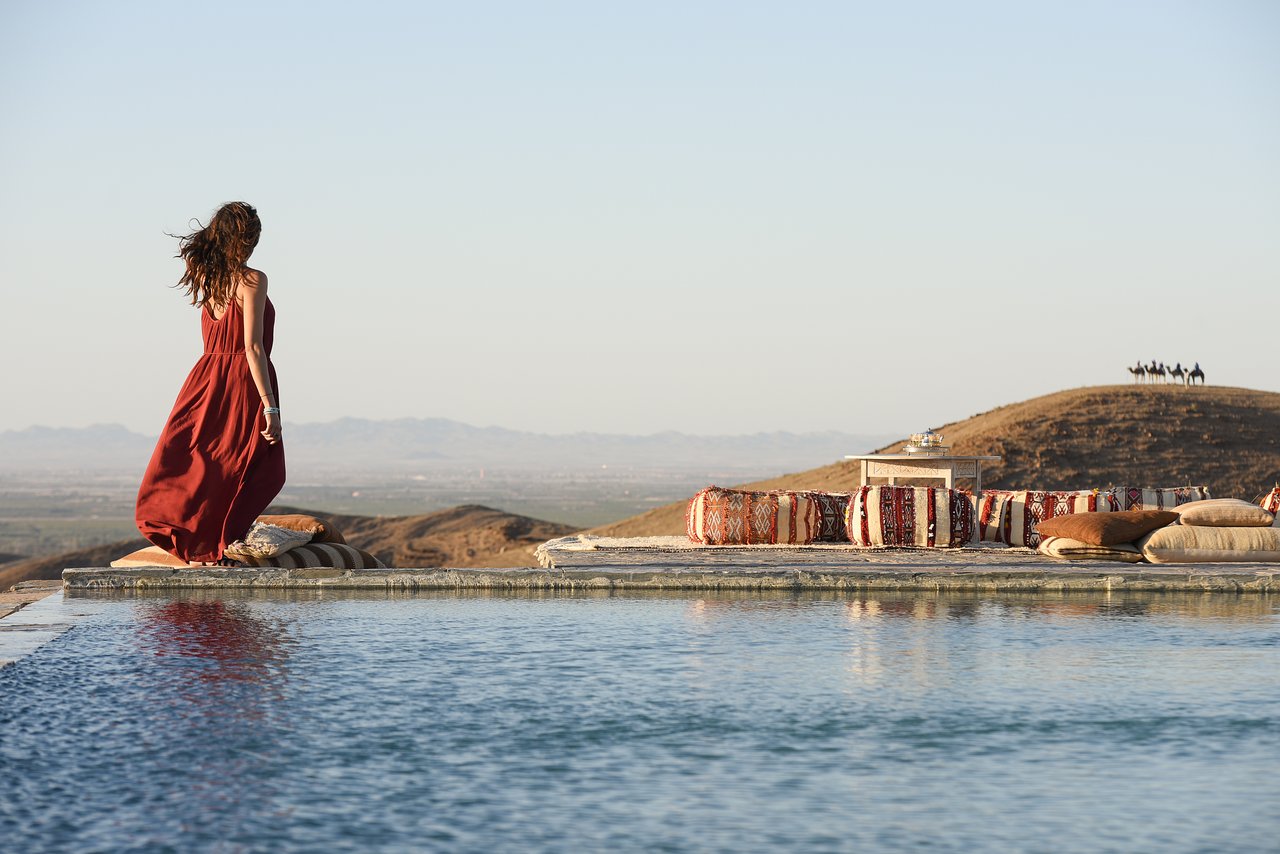 €495.00
Location: Marrakesh
Duration: 2 Days
Night in Marrakech desert Agafay Luxury camp
Private tour from Marrakech 2 days one night : spend Magice night in luxury desert camp in Agafay Marrakech desert.
You will enjoy night in Marrakech desert Agafay Luxury camp, travelers move through this desert as part of a 4×4 day trip from Marrakech into the High Atlas mountains. staying one night in Agafay desert part of a 2- day private 4×4 tour and discover the diverse area just south of Marrakech ? The desert, the High Atlas, the Kik Plateau, the local waterfalls, Lalla Takerkoust lake – so many contrasts just in two day. Perhaps start with the Ourika Valley, hike up into the High Atlas, have lunch with a Berber family. Freshen up by the local waterfalls, see how the argan is turned into oil into a local cooperative. Discover the 12th century mosque of Tinmel, have a tea by the Lalla Takerkoust lake, lunch at  High Atlas retreat or trek in the Atlas mountains. And, after all the  lunch at Richard Branson's High Atlas retreat or trek in the Atlas mountains. And, after all the lushness of the High Atlas, have a little bit of desert.
Arrive in the Agafay desert by the afternoon and, after settling in, have the most romantic dinner by candle light under the starriest sky, out in the open. Spend a night inside an adobe bungalow or white canvas tent and explore the surroundings next day by foot, camel, horse or Quad ATVS .
Tour from Marrakech to Agafay desert 2 Days one night :
Whats Included in The price :
Whats Not included:
Dinner
Extra / ATVS , Horse
Night in Marrakech desert Agafay Luxury camp
1

Day 1: Marrakech – Tahanouet – Kik Plateau – Takerkoust Dam – Agafay Desert Depature from the hotel at 9h00 am by 4×4 An and set off to discover the Agafay desert, just 30 mins from Marrakech city. You travel off-road passing a small lake and Berber villages and have time to get out and walk for a while along the tracks if you wish. You can also choose to take a camel ride and have tea in a Berber village. The road then heads towards the lake of Lalla Takerkoust. which is a popular spot for picnics on the edge of the lake, restaurants serving traditional food. Lunch will be in one of the lakeside restaurants (not inc. in the price). Later on you will drive to agafay desert and stay the night in tents

2

Day 2: Agafay Desert – Asni – Marrakech Awake early to enjoy the sunrise, followed by a typical breakfast. After breakfast you continue your journey eastwards and head for the Kik Plateau where you will stop for refreshments form a high vantage point, before then taking the road to the village of Moulay Brahim, with its famous holy shrine. Finally the road descends into the market town of Asni at the foot of the Atlas Mountains. NB On Saturdays there is a lively local souk well worth stopping to visit to witness livestock trading, local produce and authentic rural life. Passing through orchards of apple, cherry and apricot trees you descend towards the agricultural plains of Marrakech to reach the city at around 6.00 p.m. after a thrilling mix of desert, mountains, lakes and villages all within a one-day tour from Marrakech.
Contact us
Zine Elabidine
+212667897512
privatedeserttours@gmail.com
Concat Us
Centre Mhamid Elghizlane 47402
+212667897512
Related Tour Packages
Testimonials
Excellent Tour in Morocco white amazing scenery fun guide and driver we could not be more happy of choosing this agency his Driver Guide informed about all the places we visited Next time in Morocco we would do our excursion again with this Agency.
-- Andria
From Marrakesh to the desert, 3 days and 2 nights, one of them in the desert with all the expected attractions, a spetacular sun set and a super nice "crew" for dinner and music! The previous nighto we spent in an oasis on a cute and super nice hotel owned by Belgium/French couple in Skoura. Abdul was the nicest driver/guide we ever had, good mood, good with out teenager son and super informed about local culture history and attractions.
-- Alex
I was traveling with my husband and teenage son and Ali made the trip so exciting and informative. My son especially enjoyed his time in the desert sand boarding and rug boarding. We enjoyed ourselves so much at sunset we also added on the sunrise camel trip last minute without any issues to accommodate our request. If you are looking for honest, safe, know ledgable guides…this is your company to go to!
-- Eliza Tess