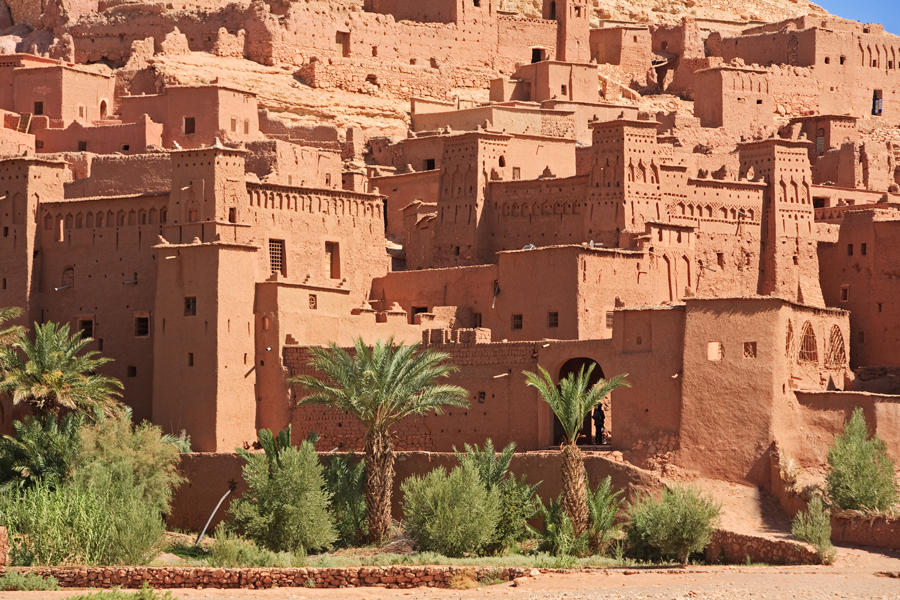 €75.00
Location: Marrakesh
Duration: 1 Days
Marrakech High Atlas, Telouet, Ait Ben Haddou
In this not-to-miss day trip (Marrakech High Atlas, Telouet, Ait Ben Haddou) we take you from Marrakech through the Atlas Mountains, passing by the road of Tizi n'Tichka, the highest road pass in Africa (at 2260 m above the sea level), towards the UNESCO World Heritage monument of Kasbah Ait ben Haddou.
Along the way from Marrakech to Ait Ben Haddou, you will be fascinated by the wonders and the panoramic views of the isolated Berber villages in the mountains.
After the Tizi n'Tichka pass, you leave the main road and take a side track into the Telouat Kasbah, the ancient palace of Pacha El Glaoui. After 40 km of track with breathtaking views over the Valley of Ounila you get to the Kasbah Ait Benhadou.
The beauty of this area is well  known, having been used in movies such as Lawrence of Arabia, Jesus of Nazareth and Gladiator.
Have a delicious lunch at the restaurant in Ouarzazate and then take a walk with our English speaking guide/Driver to discover the beauty and the authenticity of Taourirt Kasbah and have a visit to the cinema studios of Ouarzazate Holywood of Africa.
In the ksar Ait Ben Haddou where few families are still living in you will be invited for a lovely cup of tea with the inhabitant. In the afternoon we drive you back to your hotel in Marrakesh via the Tizi n'Tichka Pass.
Gallery
Marrakech High Atlas, Telouet, Ait Ben Haddou
Marrakech High Atlas, Telouet, Ait Ben Haddou
Private Transportation aboard a comfortable and air conditioned 4×4 vehicle
Pick up from your riad/hotel in Marrakech
Drop off at your riad/hotel in Marrakech
English speaking Berber driver
Fuel for entire day trip
Free stops when you want
Marrakech High Atlas, Telouet, Ait Ben Haddou
Lunches
Drinks
Tips
Extra
Contact us
Zine Elabidine
+212667897512
privatedeserttours@gmail.com
Concat Us
Centre Mhamid Elghizlane 47402
+212667897512
Related Tour Packages
From day one, Abidine was extremely responsive and helpful with our questions and helping us with our decision on picking the right tour for our time frame in Morocco. Always... read more very pleasant and professional, we had no problem booking our tour for two
abroad. Thank you Abidine for all of your help and organization!

When our 3-day tour actually started, we had no idea we were in for the trip of our lives. Our driver and guide, Ismaï, was prompt and on schedule, yet patient and accommodating for us whenever we wanted to stop for pictures. Also, he was great company with lots of insight without being an overbearing tour guide. He knows his way around..he never had to look at the map!

All stops were culturally immersive and fun, especially the Berber guest house in Gorges Dades. Very kind people who took care of us and cooked us the best dinner we had in Morocco! Not to mention the camel trekking and staying in the Berber tent. An unforgettable nights.

This is the real deal for a tour. Private is not an understatement, it was just us two with our private drive and our time. We were so happy we weren't on the bus tours loaded with other tourists. Private Desert Tours has given us memories for all our lives and we will without a doubt recommend this tour to any friends or family who plan to travel to Morocco. Our dream is to return one day and we will be booking with Private Desert Tours again.

Scott_Fairfax_CA


02/06/2019

I already went on a desert tour with Abidine last february and I was absolutely amazed and stunned by the atmosphere in the desert and the insight I got in... read more both the nature and the culture and traditions of nomad life. It was an experience so different to everything I knew that I told my friends they should go on a tour as well. The five of us returned some month later to spend a whole week in the Sahara and we all loved it. Abidine is the greatest organizer I know, he thought about everything and cared about our wellbeing. He and the guides served us traditional food and at night we were telling stories at the bonfire. We could relax and enjoy the landscape and walking. I wish for everybody to once experience this. Thank you so much Abidine!

worldchild_mira


13/05/2019

My friends and I had a blast touring the Sahara Desert! The trip to and from the desert was full of lots of fun stops, but our experience in the... read more Sahara was truly a once-in-a-lifetime adventure. Abdoul was a wonderful guide and taught us so much about Morocco. Abidene graciously answered many questions from us prior to the trip and was easily able to arrange for vegetarian meals. We truly had an incredible experience - it's been the highlight of our trip; and I highly recommend Private Desert Tours. I plan on booking another, longer tour with them the next time I visit Morocco!!

khylieesi


09/03/2023

A Great Experience - We hired Private Desert Tours to take 4 of us around Morocco for 11 days, and we were more than pleased with our experience!
Starting with our communications with... read more Abiden, that were always promptly and professionally answered, to our days with Ismail, as our driver, we were more than happy!
Abiden set our tour up to take us where we asked, and had every detail covered. He had Ismail, our driver , meet us at the airport, and take us to our Riad. From that moment on, Ismail took care of us. He was an excellent, polite and courteous driver through all our long journeys around this amazing country! Every day Ismail got us where ever we were supposed to be. In the evening, he made sure we were settled at our Riad, before leaving us. Ismail would be at our Riad on time each morning to help us get our luggage to the car, and be on our way.
We journeyed from Marrakesh, to Essaouira, to Casablanca, Rabat, then Chefchouan, to Meknès, Merzouga ( the desert), and beyond with Ismail. We switched drivers before heading in through the High Atlas Mountains, as Ismail had to start with a new group. Our new driver, Adeel, was a very careful, confident driver through those rugged mountains, and on to Marrakesh.
In order to see as much of the country as possible, we put on a lot of kilometres. Some days had long stretches of driving, but we saw so many incredible wonders in this diverse and beautiful country!
Many thanks to Abiden, Ismail, and Adele for a trip of a lifetime!

Sue3020


16/11/2019

Fantastic tour, great people! - My wife and I decided to explore Morocco for our Honeymoon - we had limited time (less than a week) and wanted to see many spots. We booked Private Desert... read more Tours and we could not be happier with how it turned out. Our driver, Ismael, was fantastic, professional and accommodating. In 5 days, we visited everything that was on our list: Dade's valley, Erg Chebbi desert, Berber Villages, Fez, Chefchaouen, Casablanca (which wasn't on the list but Isamel managed to make a short detour to accommodate us). The tour started on Monday morning from Marrakesh and ended Friday afternoon back in Marrakesh. We travel quite a bit, and this was one of the most wholesome and complete experience we've encountered - highly recommended.

traveldooda


18/02/2023

This was a unique experience which me and my family will cherish for the rest of our lives. Thank you Abidine for making it possible. Your prompt response to all... read more my queries helped me plan my trip better. A million thanks to Ismail (our guide) who made sure we had a wonderful time through the trip. We feel like we made a great friend in him. From introducing us to local music, to tirelessly driving the 4 days, to taking us to these amazing riads run by the most wonderful people, to showing us the main sites to see along the way - he was simply amazing. This tour helped us experience Morocco in a way that no other tour could. We met amazing families who hosted us. The desert camp was spectacular. I was worried that being a vegetarian and not being able to speak arabic or french would be major hurdles - definitely not so. This tour made it so easy to manage. This is something I would recommend to anyone planning on spending time in Morocco.

485srivatsans


08/07/2019

We both had a fantastic time!. Abidine was wonderful . He was sweet, dependable guy who went out of his way to help us on many occassions. Thank you... read more for making the planning for us! You were easy to work with and very responsive. Thank you so much do the wonderful trip !

Mchicha F


31/05/2019
Testimonials
Excellent Tour in Morocco white amazing scenery fun guide and driver we could not be more happy of choosing this agency his Driver Guide informed about all the places we visited Next time in Morocco we would do our excursion again with this Agency.
-- Andria
From Marrakesh to the desert, 3 days and 2 nights, one of them in the desert with all the expected attractions, a spetacular sun set and a super nice "crew" for dinner and music! The previous nighto we spent in an oasis on a cute and super nice hotel owned by Belgium/French couple in Skoura. Abdul was the nicest driver/guide we ever had, good mood, good with out teenager son and super informed about local culture history and attractions.
-- Alex
I was traveling with my husband and teenage son and Ali made the trip so exciting and informative. My son especially enjoyed his time in the desert sand boarding and rug boarding. We enjoyed ourselves so much at sunset we also added on the sunrise camel trip last minute without any issues to accommodate our request. If you are looking for honest, safe, know ledgable guides…this is your company to go to!
-- Eliza Tess