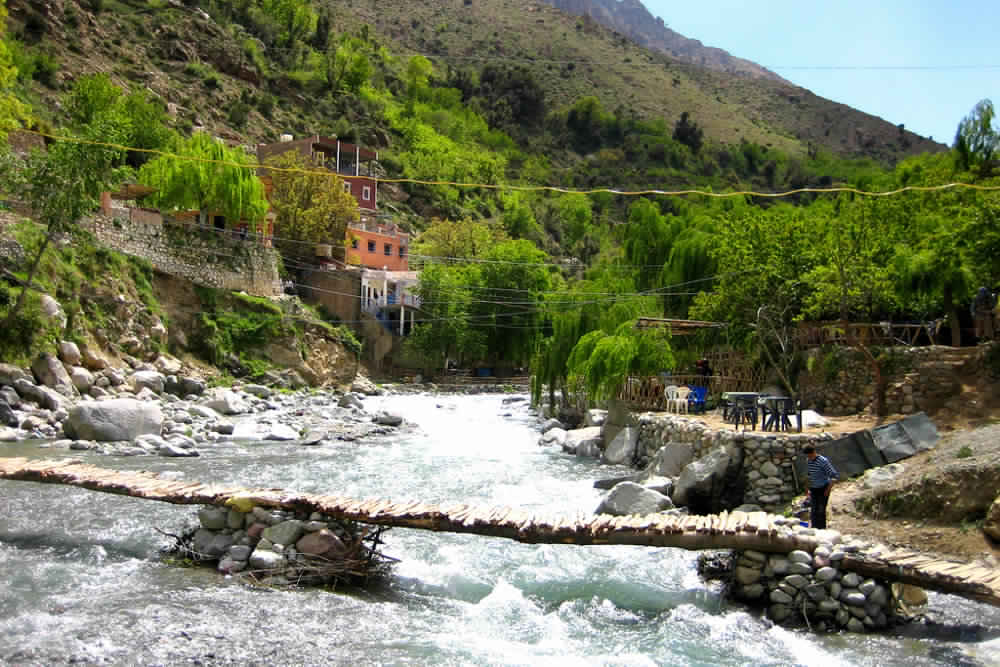 €75.00
Location: Marrakesh
Duration: 1 Days
Day Trip 3 Valleys  to Atlas Mountains
The first Valley of the trip is that of the Lalla Takerkoust reservoir, which supplies Marrakesh and the surrounding area with water from the snow melt of the High Atlas. Here there are stops to take photos of the wonderful scenery over the lake.
We then pass the mausoleum of Moulay Brahim, a well-known Moroccan Sufi saint who died in 1661. Here you can have tea with a local Berber family, who will show you the traditional hammam and bread ovens.
Passing the Toubkal National Park we reach Asni, a small Berber village, which is famous for its permanent as well as for its weekly soukhs.
The road to the Ourika valley is bordered by gardens, fruit trees, small villages, summer houses, as well as cafés and restaurants. Lunch will be here at one of the many river-side cafés and restaurants where the tajines have been slowly cooking over a charcaol fire awaiting your arrival! You can sit under the trees by the river, or even, at tables in the river itself.
The Ourika river descends from the High Atlas, passing by Asguine, Aghbalou, Oulmes and finally the village of Setti Fatma. From here it is possible to follow the river up-stream with a local guide showing you the way.
It takes about two hours to the last of seven waterfalls and to descend again. The wild life includes painted frogs, the Moorish gecko, falcons, the crimson winged finch, poplar trees and weeping willows. Alternatively you can spend more time trekking in the hills before returning to Marrakesh in the late afternoon.
Gallery
Day Trip 3 Valleys  to Atlas Mountains
Private Transportation aboard a comfortable and air conditioned 4×4 vehicle
Pick up from your riad/hotel in Marrakech
Drop off at your riad/hotel in Marrakech
English speaking Berber driver
Fuel for entire day trip
Free stops when you want
Day Trip 3 Valleys  to Atlas Mountains
Lunches
Drinks
Tips
Extra
Contact us
Zine Elabidine
+212667897512
privatedeserttours@gmail.com
Concat Us
Centre Mhamid Elghizlane 47402
+212667897512
Related Tour Packages
Testimonials
Excellent Tour in Morocco white amazing scenery fun guide and driver we could not be more happy of choosing this agency his Driver Guide informed about all the places we visited Next time in Morocco we would do our excursion again with this Agency.
-- Andria
From Marrakesh to the desert, 3 days and 2 nights, one of them in the desert with all the expected attractions, a spetacular sun set and a super nice "crew" for dinner and music! The previous nighto we spent in an oasis on a cute and super nice hotel owned by Belgium/French couple in Skoura. Abdul was the nicest driver/guide we ever had, good mood, good with out teenager son and super informed about local culture history and attractions.
-- Alex
I was traveling with my husband and teenage son and Ali made the trip so exciting and informative. My son especially enjoyed his time in the desert sand boarding and rug boarding. We enjoyed ourselves so much at sunset we also added on the sunrise camel trip last minute without any issues to accommodate our request. If you are looking for honest, safe, know ledgable guides…this is your company to go to!
-- Eliza Tess